From The Silver Stock Investor | October 2023
In my book The Great Silver Bull, I examine how silver has behaved in previous bull markets.
I outlined in this month's intro how there are a number of forces acting right now that contribute to silver's volatility and weakness.
With this in mind let's review and analyze silver's two previous bull markets to glean some clues on how it's acted, and what may still lie ahead.
I think the single best analog we have for a silver bull market was its dramatic run in the 1970s. It quite clearly ran from 1971 until 1980. There were a few impressive rallies that took place in the 80s and 90s, but they were relatively short lived, and I wouldn't consider them to be true bull markets.
Then in 2001 silver embarked on a major bull run which peaked in 2011. Few people agree on whether that was a self-contained bull market or part of something larger. I'm in the latter camp. I think that was simply the first half of a secular bull. In my view the period between 2011 and late 2015, when silver bottomed near $14 was the mid-bull correction period which is typical of secular bull markets.
According to legendary commodities trader/investor Jim Rogers, most secular bull markets run through a period, usually about half-ways on the time scale, where the commodity's price falls by about 50%, sometimes more. It's true that silver did reach even lower, to $12 in early 2020 during the COVID-19 pandemic panic. But that was very short-lived, and was still 3 times the 2001 $4.14 low.
That suggests to me that we are still in the same secular bull market that began in 2001. If that's correct, it would put us about 22 years into this bull market. I believe it could well have another 5-7 years (or more) ahead, which would make this an exceptionally long secular bull. But given the massive money-printing and huge underinvestment in mining capital expenditures, not to mention the extreme demands for resources from the energy transition, I think a massive commodities bull market lies ahead.
Now let's analyze the 1970s and the 2000s bull markets in more detail.
In the 1970s silver rose from a low near $1.40 in 1971 to peak at $49 in 1980. That produced a whopping 36 times return, or 3,600%. Every $1,000 became $36,000.
Then, silver eventually bottomed in 2001 at $4.20, before rising all the way back to $49 in 2011. Investors who had positioned themselves early enjoyed a 1,160% return.
Let's dissect both of these bull markets in more detail, because understanding how they behave can help you better prepare. As you'll see, silver is volatile. But if you want to benefit from its big gains, you have to be willing to hold on through what is sometimes a wild ride.
1970's Silver Bull
As I said, silver bottomed near $1.31 in October 1971. That's when its 1970s secular bull market began.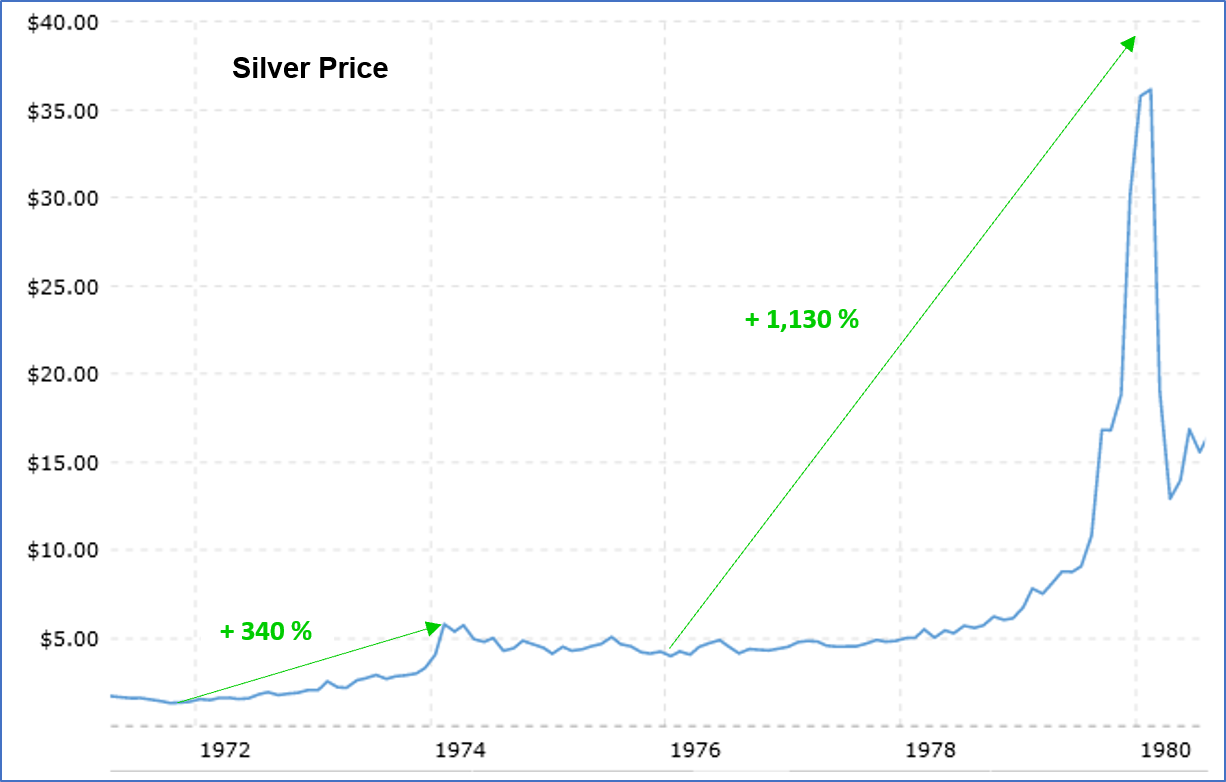 It then peaked at $5.78 in February 1974. That was a 340% gain in less than 3½ years. But then silver started to lose ground.
That correction took it from $5.78 to $3.97 in January 1976. It was a relatively shallow, but drawn-out correction. By October 1978 silver had surpassed $5.78, and eventually went onto a blow off mania high near $49 in January 1980, gaining 1,130% from its 1976 low. (Note that the $49 high in 1980 doesn't appear in this chart because it shows monthly prices).
Silver's gain from the 1971 low of $1.31 to its $49, 1980 high was an astounding 3,640%.
Two decades later, it would do something similar…again.
2000's Silver Bull
In November 2001, silver bottomed at $4.14. No one was paying attention, and no one wanted it. Silver was the perfect contrarian trade. It then launched into a new bull market, rising to $19.89 by February 2008, producing a 380% gain.
Silver then corrected from $19.89 to $9.73 in October 2008, putting in a relatively short but sharp 50% correction. It then went on to climb all the way to $49, reaching that level in April 2011, for a 403% gain from its 2008 low.
But during its decade-long run that started in 2001 up to its peak in 2011, silver gained 1,080%. That's a tenfold gain.
I think the current secular silver bull market will outpace that of the 1970s. Expect volatility ahead. But it's only by being invested that you can participate. Patience will be rewarded.
If you would like to read the full letter, you can subscribe to Silver Stock Investor here.